The other insert card type that I enjoy is the autograph card. Collecting autographs is a way to feel closer to the athlete because you know he personally had contact with the signed piece.
For a personal collection, the best way to get an autograph is in person. The autograph is a physical reminder of your interaction with the athlete. When you look at the autograph, you can reminisce about the excitement of the moment. If your collection is more than for personal enjoyment, even if you document your interaction with a photograph, the authenticity of the autograph can come into question. Also it can be very difficult to obtain an autograph in person. Some athletes may not come to your town, may no longer travel, may not sign autographs are card shows, or may just not make many public appearances.
Another way to collect autographs is through dealers and online auctions. Unfortunately there are frequently fake autographs on the market and authenticity verification can be virtually impossible.
An insert card is an excellent way to collect the autograph of your favorite player. While you don't have the personal interaction with the the athlete, you do know that there was contact with the card. You also have some confidence that the autograph is authentic due to the reputaion of the card company.
The first autograph card below is the 1999 Upper Deck Retro Inkredible Antowain Smith #AS. This is one of the first autographed Cougar cards I ever bought.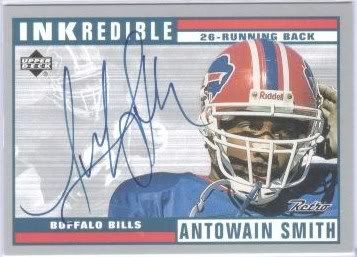 The second card is the 2006-07 Press Pass Legends Alumni Association Autographs Drexler Hayes #3. What a great card to represent the fine history and tradition of UH basketball. Clyde Drexler and Elvin Hayes autographs on the same card with the fat UH logo on the card. I'd prefer the skinny UH logo since that's still my favorite. Also that was the logo when both players were at UH. But you won't hear me complain too much with such an exquisite card.