Yeah! Sebastian Vollmer cards are available. I'm a little surprised. Offensive linemen generally don't have the most sought after cards so card manufacturers don't produce many of them. Add that Vollmer isn't from a high profile school and wasn't a high profile player (he wasn't invited to the NFL combine), and it's even more surprising that he has cards. Maybe his fascinating story helped.
Sebastian is from Germany and didn't even play football until he was 14 years old. When he came to UH, he spoke little English and was a tight end. After back surgery, he switched to playing tackle. In his senior year, he was named All Conference USA.
He was then selected in the second round of the 2009 NFL draft by the New England Patriots. He was the first European player to ever be drafted in the NFL. He got some playing time beginning with the first game of the season and has been starting since week 6.
All of the images appear to come from one event. Considering these are all Upper Deck products, I guess that's not too surprising. Very disappointing that there aren't any pictures in a UH uniform.
First we have Upper Deck #254.
Next we have SP Threads #187.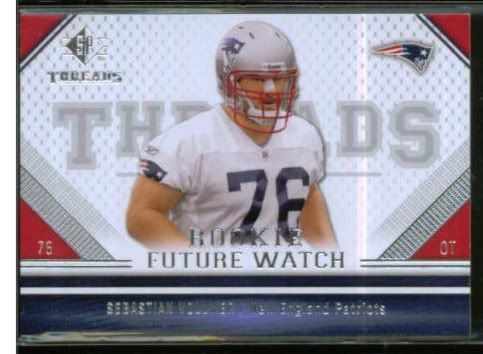 Finally we have SPx #179. This comes in three variations: Base, Silver, and Silver Holofoil (not shown). The Base is numbered to 799, Silver to 399, and Silver Holofoil to 25.
SPx Base
SPx Silver