Lou Dunbar is probably the most famous Cougar to play for the Harlem Globetrotters, but he is not the only one and not even the first. 10 Cougars have played for the Globetrotters at some point in time. The first to do so was Theodis Lee.
Lee played at UH from 1966 to 1969. He was a starter in the Game of the Century in 1968. He was co-captain with Ken Spain for the 1968-1969 team. He is in the top 50 scorers all time at UH and is a member of the 40 point club by putting up 40 on UNLV in 1969.
After leaving UH, he joined the Harlem Globetrotters where he played for several years. He was in some of the Globetrotters more famous live action shows like The Harlem Globetrotters On Gilligan's Island and The Harlem Globetrotters Popcorn Machine. Checkout out Theodis Lee in this clip of the intro and closing of the Popcorn Machine.
Today's collectibles are cards #54 & #55 from the 1971 Globetrotters set. This set consisted of 84 cards with most players having multiple cards. I love these cards. Brightly colored backgrounds. And how can you not like Lee's afro and beard combination? These cards just embody the spirit of the late '60s/early '70s.
Card #54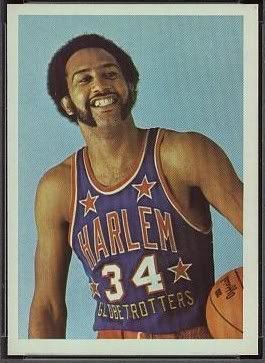 Card #55