Dick Post was a running back at the University of Houston from 1964 to 1966. He was captain of that 1966 team that went 8-2.
He had a very solid career at UH, not only running the ball, but also receiving and returning kicks:
10th in career rushing yards (2219)
Led the team all 3 years in rushing yards (528 in 1964, 630 in 1965, 1061 in 1966)
Led the team in total offensive yards in 1964 (528)
Led the team in receptions in 1964 (12)
Led the team in kickoff returns in 1964
Led the team in scoring in 1964 (30 points)
In 1966, he was named All-American Honorable Mention and was the Houston Chronicle Player of the Year.
Post was selected by the San Diego Chargers in the 4th round of the 1967 AFL Draft. He played for the Chargers, Denver Broncos, and Houston Oilers. Although he only played in the NFL for 5 years, he was a 2 time Pro Bowler in 1967 and 1969.
We have a special bonus today, 2 items both oddballs.
First we have the Eskimo Pie #15. These were made for distribution for the Eskimo Pie ice cream product. This "card" is not really a card at all. It is actually stickers attached to a cardboard panel. Post shares the card with Matt Snell. It is unnumbered, but the set is listed alphabetically based on the last name of the player on the left.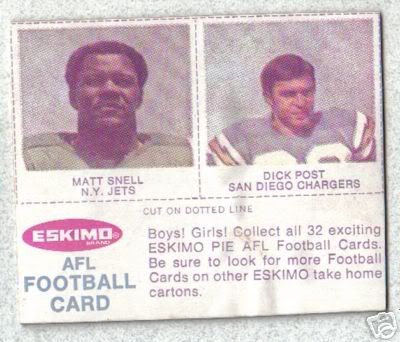 The second item today is the 1969 Chemtoy AFL Superball #20. Yes, this is a high bouncing rubber ball with a paper in the middle of the ball. The front of the paper has a picture of the player and the back has the player name and team. Again, they are not numbered, but they are sequenced alphabetically. How cool is this?