Kevin Kolb has been traded to the Arizona Cardinals.
Congratulations! Let's hope Kevin takes advantage of this opportunity. It would be so great to see him succeed. I'd love for him to have success personally, but as a UH alum, I love see Coogs succeed at the highest levels. I'd especially like to see a UH quarterback break through.
On a personal note: as a lifelong Dallas Cowboys fan, it really hurt me to cheer for him as an Eagle. For most of my life, the Cardinals were in the Cowboys division, but they were never hated rivals like the Redskins or Eagles. BTW: I still have trouble with Arizona Cardinals. It should be St. Louis (not the Rams) although some older fans might still think Chicago.
It will be great to seek him back in red and white. In honor of that, here are some cards featuring Kolb in his Houston red and white. These cards are 2007 Press Pass SE Game Day Gear Jersey cards #KK. There are five variations: Silver, Gold, Holofoil, Holofoil Platinum, and Autographed (not pictured).
For my Coogfan buddies, don't you love the blue uniform trim on the Holofoil cards? ;-)
Silver
Gold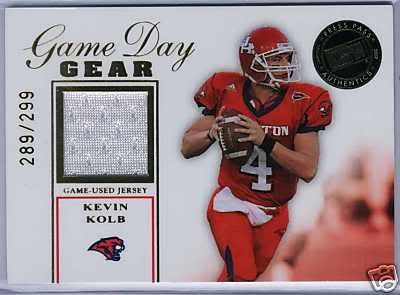 Holofoil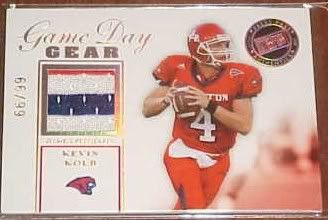 Holofoil Platinum
Back